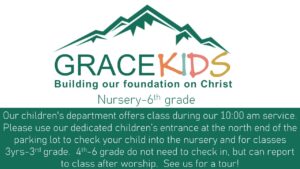 All of our children's programing, including our nursery, takes place during the 10:00 am service.
Keeping Kids Safe: Here at Fields of Grace all of our children's volunteers are background checked. We use a secure check in system called kid check. This system generates a name tag (which will display allergy info) and a matching guardian slip for each child. Our nursery parents will also receive a pager to be used in case a parent is needed during services.
Praise and Worship: Our children sit together during the praise and worship part of our service. We think it is important for them to be a part of this corporate worship experience. They enjoy the music and being a part of big church during this time. After worship, they will walk as a group to the back of the church and to their classrooms.
Lessons:
We keep our lessons relevant and fun. They always include a game, snack, bible passages, memory verse and object lesson. Our lesson series usually run with the same theme for several weeks. Each week it builds on a BIG IDEA to help grow their faith.
Communion and our kids: On the 3rd Sunday of each month our pastor leads the congregation in communion. Our children's department does not take part in communion, however you are welcome to pick up your child prior to that part of the service so that they may participate in communion with you.