Please join us for the following events. Everyone is welcome. Sunday morning worship starts at 9:00 and 10:30
S.O.S Meets the third Saturday of each month. We start at 9:00 am. All ages of women are welcome. Come join us for some fun fellowship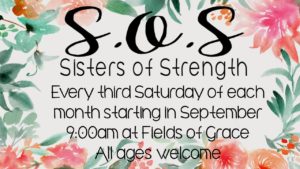 Our Annual Princess Ball will be held on February 16th from 6:30-8:00 at the Covington Eagles Hall. There will be a DJ, candy bar, keepsake project, and of course pictures with Cinderella as well light snacks. This is a great opportunity to have a night out with a special little girl in your life. Cost of the event is $10 dollars per family at the door. We hope you will join us!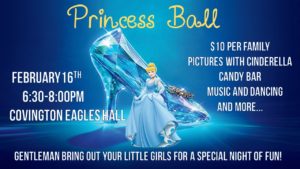 Little girls may come and get pampered before the ball. Stop at the information desk and sign up for your appointment. Services are donated by stylist at All for you Salon (owner Penny Diltz) and volunteers of Fields of Grace.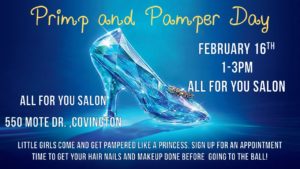 This month Grace kids is partnering with the Cleats 4 Kids organization. We are collecting new or gently used sports equipment and shoes. Our collection dates are 2/10-2/24. Please help us help other kids gain access to the sports equip they need to get involved and be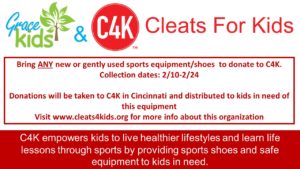 February 24th from 6-8pm-Free admission and skate rental
Bring your family and friends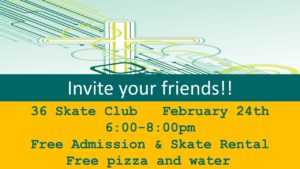 Friday March 15th at Urbana Nazarene Church
we will depart the church at 5:45. doors open at 6:30 and event starts at 7:00. Watch for more details at the event gets closer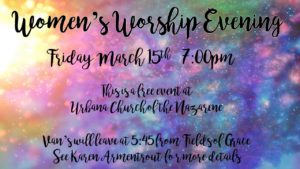 BFF book club invites you to join in on the women's study where they will be reading Liz Curtis Higgs book Bad Girls of the Bible. Normal book club will start in April after this study is finished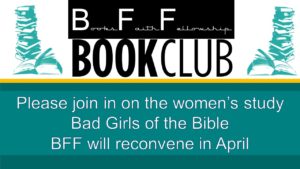 Bad Girls of the bible will start on January 8th at 6:30pm They will meet every Tuesday evening. Books are available for purchase at the information desk. If you have questions please see Sherry Furrow.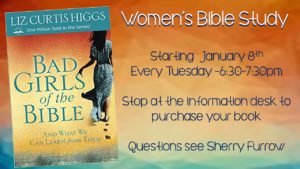 Our Men's Fellowship group will be starting a study on January 9th. They will meet every Tuesday night from 6:30-7:30 through March 27th. If you have questions, see Pastor Don.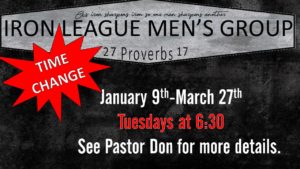 Christians Seeking Instruction
This class is taking a winter break. they will start meeting again in the spring. Watch the announcements for details. Please refer any questions to class leader Mark Pellman.