Please join us for the following events. Everyone is welcome.
Sunday morning worship starts at 8:30 and 10:00
Our Tuesday morning bible study meets every Tuesday morning at 9am in the Fields of Grace Youth Room. Come in through the office doors and join Dawn Weiss and the rest of the group as they study the Bible and dive into the meaning of His Word.
There is no childcare at this study.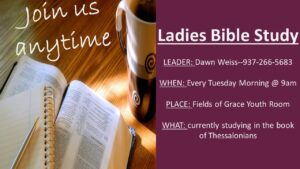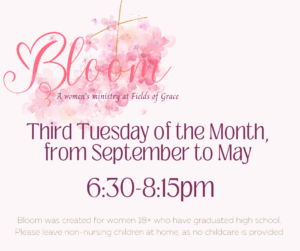 Bloom will be Tuesday May 16th from 6:30-8:15pm. Join us for a fun, encouraging night! There will be a salad dinner this month, so if
you plan on coming, please make sure to sign up at the information desk.
*this study is for ages 18+ and graduated women. Please leave non-nursing children at home as there is no childcare provided*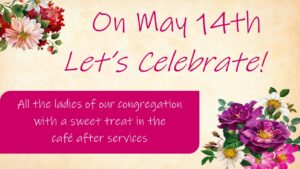 We can't wait to celebrate all of
the ladies in our church!
Come join us on May 14th to
celebrate with a sweet treat in the cafe after services!
Do you have a child that you'd like to be dedicated? If so, you can pick up a form at the information desk.
Please be sure to get it turned back in by May 7th so we can assure your child can be celebrated. If you have any questions, you can call the church at 937-573-4282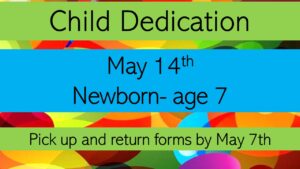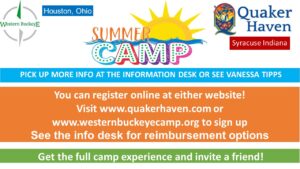 Fields of Grace is partnering up with 2 different Summer Camps this year! One will be with Western Buckeye in Houston Ohio, and the other will be with Quaker Haven in Syracuse Indiana. If this is something you or your child are interested in, please be sure to visit the information desk to get all of the details.