Please join us for the following events. Everyone is welcome.
Sunday morning worship starts at 8:30 and 10:00

Mark Pellman will be starting up the prophecy class once again starting October 25th. Join them on Sunday Evenings from 6-7pm for a lively discussion about current events and how it relates to the Bible. No purchase of materials are needed for this class.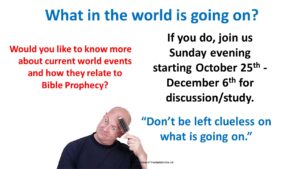 Men's Study starting September 23rd at 6:30pm in the Sanctuary. Join us as we dive into the book Crazy Love by Francis Chan. Sign up at the info desk. Books for the study are $14.00 dollars. Study leader is Pastor Don Solin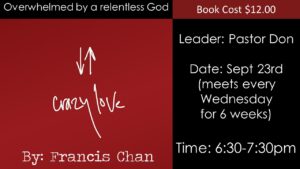 Women's 6 week study will start September 23rd at 6:30pm. Join Christina Riffell as she leads us through the Jennie Allen book Get Out of Your Head. Sign up at the info desk. Books are $15 each. Childcare will be available.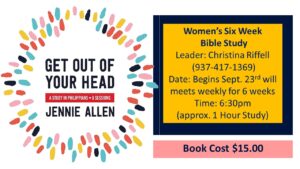 Our Tuesday morning bible study will start back up on September 15th at 9am. Join Dawn Weiss and the rest of the group as they finish up the book of John and then move into the book of Acts. No childcare at this study.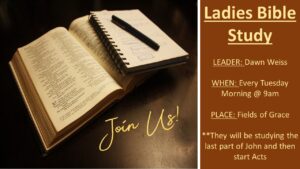 Looking for a small group of people to make connections with? our WE Groups will meet again on November from 6-8 pm. All groups will meet at the church this month to work on our Fall Community Outreach Project. Each group is to bring a snack to share and your own drink. These WE Group event s are a great way to get to know people in the church and share alto of laughter!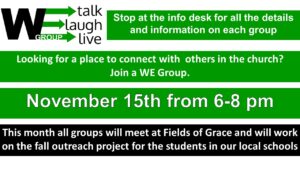 On November 10th we will hold our annual congregational business meeting. All are welcome to attend but only members may vote for items on the ballot. Please join us!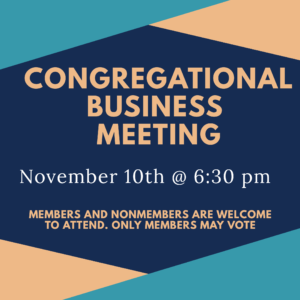 It's that time of year again for the partnership of Fields of Grace and the Covington Eagles to sponsor their Annual FREE Community Thanksgiving Dinner. It will look different this year but we promise the same yummy food! This year there will be NO DINE IN option. All meals will be available for home delivery or for pick up at the Eagles. All home deliveries MUST call in prior to Nov. 19th. Simply call the church at 937-573-4282 and leave us a message including your name address and phone number and number of meals needed if we don't answer. Meals for pick up do not need to be reserved. Simply drive over to the Covington Eagles Debra St. Entrance, park your vehicle and walk up to the designated pick up area. We will have your meal packed up and you will be on your way. We hope to feed you on November 21st from 4-6pm!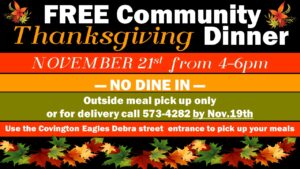 Fields Of Grace there are ways you can get involved this year with our annual Thanksgiving Dinner. We need donations of dinner rolls, pumpkin pies, mashed potato and stuffing ingredients. We also need volunteers to help the day of the event. Those opportunities include pie cutting, filling to go boxes, home delivery crews (Great for families who want to serve together) Make sure to stop by the information desk next week for all the details about donations and volunteering.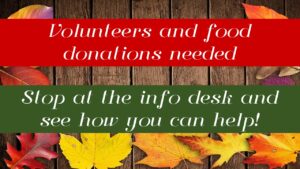 Join us for one of our Christmas Celebrations. We will gather together on December 23rd @ 6:00pm and again on December 24th. Services will be identical. We hope you will join us for a special service to celebrate the birth of Jesus our Christ. More info on the livestream date to come.