Please join us for the following events. Everyone is welcome.
Sunday morning worship starts at 8:30 and 10:00

Our Tuesday morning bible study will start back up on September 15th at 9am. Join Dawn Weiss and the rest of the group as they finish up the book of John and then move into the book of Acts. No childcare at this study.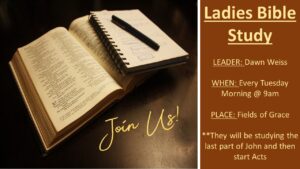 Come join one of our small groups! We meet once a month for a time of food and fellowship. Watch the information desk for details.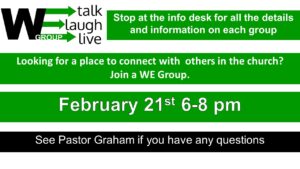 Join Katie Byrd for this Women's zoom bible Study. The Study starts on Feb 8th at 7pm and will continue for 6 weeks. You will need to txt or call Katie with your email information at 937-418-8425. You will also need to purchase your book on Amazon.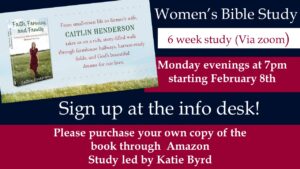 If you are at a place in your faith where you would like to be baptized we invite you to pick up a baptism packet at the info desk or you can download it from the website. please turn in your papers by January 24th. If you have questions please see Pastor Don or Graham.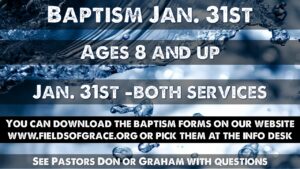 Ready to be a member at Fields of Grace? Stop by the info desk and pick up a membership packet or download it from the website. All paperwork needs turned in by Jan. 24th. New member recognition will take place in Jan. 31st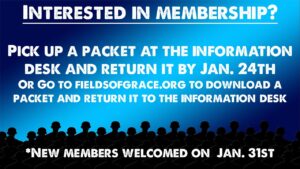 Child dedication will take place on Feb. 14th. Please stop by the info desk for the forms that will need filled out and returned by Feb. 7th. You can also print off those forms from the website under the connect tab. they are located under baby/child dedication. If you have questions please let us know.