Please join us for the following events. Everyone is welcome.
Sunday morning worship starts at 8:30 and 10:00
Our Tuesday morning bible study meets every Tuesday morning at 9am in the Fields of Grace Youth Room. Join Dawn Weiss and the rest of the group as they study the book of Romans. No childcare at this study.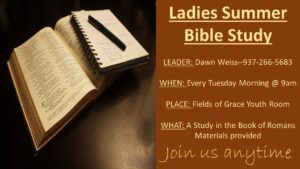 Come Celebrate Move Up Sunday with us after church on August 22nd from 11:30-1:00! This year we will be having hotdogs, hamburgers, chips & KONA ICE for lunch followed by bounce houses, train rides, face painting and kick ball that the whole family can enjoy!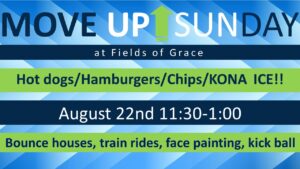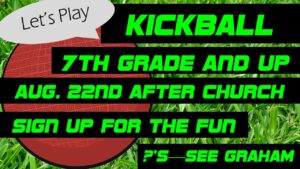 Let's play Kickball! We will be having a kickball game for ages 7th grade and up on August 22nd after church during the Move Up Sunday Celebration! You can sign up for the fun at the information desk. If you have any questions, see Graham Furrow for more information!