Please join us for the following events. Everyone is welcome. Sunday morning worship starts at 9:00 and 10:30
Win the worry battle with this 6 week women's bible study.
Wednesday evenings starting January 29th @ 6:30 pm.
Book cost is $10 dollars. Sign up at the information desk!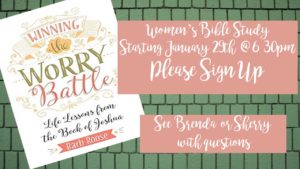 Join the men for this 6 week study starting January 29th @ 6:30. They will meet in the 7-12 grade classroom. Book cost is $10.00. Sign up at the information desk. See Pastor Don with questions.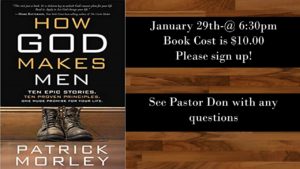 Join this group of ladies as they walk through The Made to Crave Book Study. Any questions contact Katie Byrd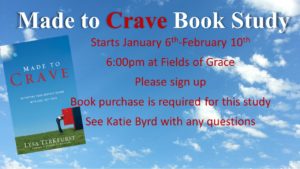 Join us as we host our 6th annual Princess Ball! The ball starts at 6:30pm. Come have your pictures taken with the famous Frozen sisters. There will be candy, music, corsages for the first 200 and lots of fun. This year, due to our increase in attendance, the Princess ball will be held at Fields of Grace, 326 E Troy Pike Covington! There is a $10 dollar at the door charge per family!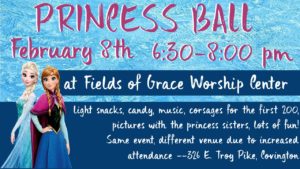 Calling all mini Princesses! Come get your hair, nails and makeup done! You must have an appt, so stop by the info desk and sign up!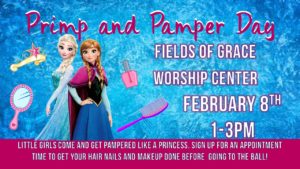 Dynamic Marriage workshop will be held here at Fields of Grace starting February 15th. Mike and Angie Marion will lead you through the steps to a better marriage. You must sign up and purchase the class materials. Cost is 85 dollars and space is limited.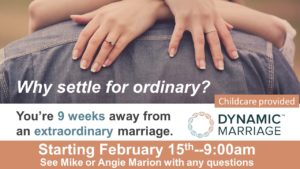 Our annual skating party at the 36 Skate Club will take place on March 1st from 5:30-7:30. FREE admission, skate rental, pizza and bottled water!! Invite your family and friends! EVERYONE IS WELCOME!