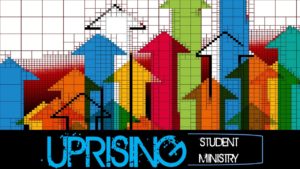 Uprising is for the 7th-12th grade students. UPRISING meets on Sunday mornings during the 9:30am service and on the third Sunday evening of each month form 6-8 pm. We try to schedule some kind of fun event each month in addition to these times. Games fun and relevant lessons are what this group of teens are all about. Come see what's up at UPRISING! EVERYONE WELCOME!!
The Youth are headed to Vandemark Farms on Sunday October 13th after church. Lunch will be served prior to leaving. the day includes admission to mini gold the corn maze and the hayride. After all the adventures they will be making stop for ice cream before returning to the church. Permission slips need to be picked up at the info desk and turned in prior to the 13th. This outing is for grades 6th-12th. Students only need money for snacks at Vandemark Farms if they would like. If you have questions you can see Vanessa Tipps or txt her 570-3655. So sign up and invite your friends!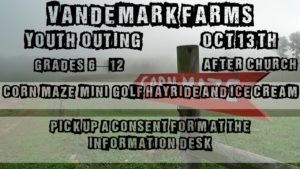 All Youth grades 7-12 are Welcome to attend our Monthly Youth Night. This will always be the 3rd Sunday of each month from 6:00-8:00pm. Pizza and drinks provided. Come hang out with us!