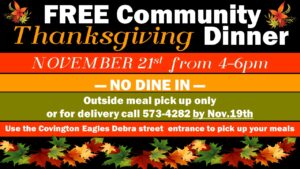 Our FREE Thanksgiving Dinner will take place on November 21st from 4-6 pm. There will be no Dining in this year due to the Covid-19 virus. You will be able to order a meal for home delivery or pick up your meal at the Debra Street entrance to the Covington Eagles. For home delivery call prior to November 19th at 937-573-4282. If we do not answer then please leave us a message with your name and phone number and we will return your call.
CONTACT US
Fields of Grace Worship Center
326 Troy Pike Covington, OH 45318
Tel: (937) 573-4282
COPYRIGHT NOTICE
The information on this site is the property of Fields of Grace Worship Center. No broadcasting or duplication of any sermons in public form are allowed.
Tithing/Donations Can Be Made At The Following Link: