Please join us for the following events. Everyone is welcome.
Sunday morning worship starts at 8:30 and 10:00
Our Tuesday morning bible study meets every Tuesday morning at 9am in the Fields of Grace Youth Room. Join Dawn Weiss and the rest of the group as they study the books of 1st and 2nd Corinthians. There is no childcare at this study.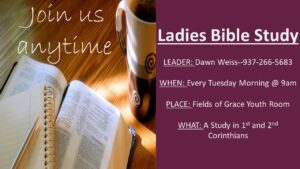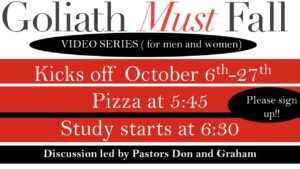 Join us for our new co-ed study on Wednesday evenings called Goliath Must Fall. Join us for pizza at 5:45pm or you can skip dinner and come for the study at 6:30. If you'd like to attend, please call the church at 573-4282 to sign up, or sign up at the information desk.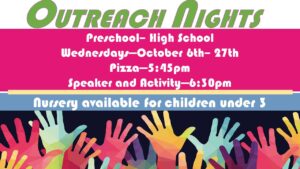 We're having an outreach night for kids aged pre-school – High School (nursery is available for kids under 3) on Wednesday evenings in the month of October during the Goliath Must Fall adult study. Bring your children along and they'll be able to help out a different organization in the area each week.
Make sure to check out the information desk for age groups, locations, and times! We can't wait to see your smiling faces as we get together to have some fun! If you have any questions contact Graham Furrow at 573-4282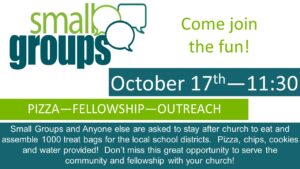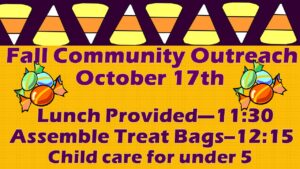 We will be having a community outreach following second service to fill treat bags for local schools. A light lunch will be provided at 11:30am and assembly starts at 12:15pm