Please join us for the following events. Everyone is welcome. Sunday morning worship starts at 9:00 and 10:30
S.O.S Meets the third Saturday of each month. We start at 9:00 am. All ages of women are welcome. Come join us for some fun fellowship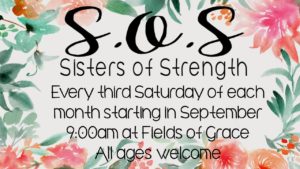 Katie Byrd will be leading a four week study in the book of Proverbs. Join them on 4/30 as they start this study. Child care will be available. All ages welcome.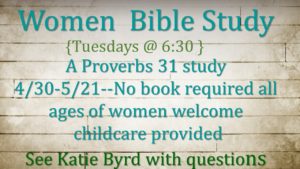 Join then men as they dive into D.R.I.V.E. They will meet weekly starting on April 30th at 6:30. All ages are welcome to attend. See Pastor Don or Dwayne Wilson with questions.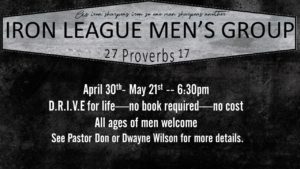 Join the women for a night of Worship. Vans will leave the church at 5:45 and travel to Urbana Church of the Nazarene for an uplifting night of music and message. See Karen Armentrout for details and please sign up at the information desk.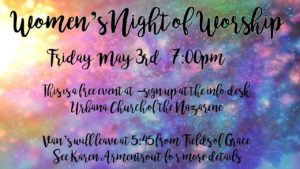 We will have baptism on May 5th. Anyone ages 8 and up may be baptized if they desire to take this next step In their life with Christ. Please print out the baptism form located in the connect tab of the website and turn it into the information desk. If you have question please see Pastor Don or Graham.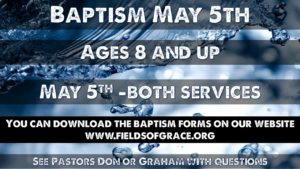 On May 12th we will celebrate the women in our lives. Muffins will be available for everyone prior to each service. Join us for this special Sunday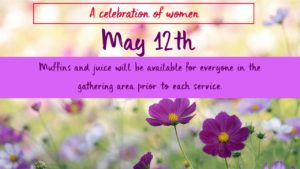 We will take time during services to recognize this years graduates. Join us as we give praise to these accomplished young people on May 12th.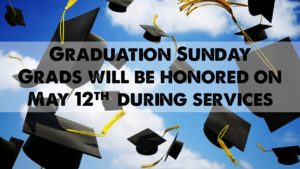 Fields of Grace will be collecting needed items for this worthy cause. His Hands Extended Sanctuary is located outside of St. Paris and it is their mission to rescue animals from harsh unsafe environments and provide them with needed vet care. You can pick up a list of the specific items they are asking for at the info desk
.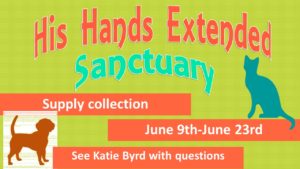 Fields of Grace will hold a bike blessing on June 9th after our second service. We will follow the blessing with a ride and lunch stop. Sign up at the info desk and make sure to invite your bike riding friends.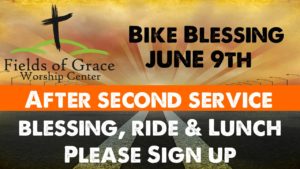 Fields of Grace has made it easier for you to give. You can use the app under GIVE+ in your app store or you can click in the GIVE icon on our home page. If you have question please see Mark Pellman, or Deb Clason.